The Webbee Team is feeling very excited announcing that Webbee 2.0 is in the market. Below are the details about what you can get having Webbee at your side.
Webbee 2.0 includes the following features:
Crawl Modes
Webbee contain different crawl options and modes. There are total five crawl modes which are equally helpful for the user in different situations. Options can be found in "Mode" menu.

Crawl Mode Details
So basically there are 2 sections; the "Input Mode" and the "Crawl Mode". Conversely, there are three crawl options and two input methods.
[the_ad id="6392″]
Input Methods
Input to the crawl can be given in two forms;
Spider — Website URL.
Under this input option crawler will crawl all the URLs which are linked internally or in the sitemap (depends on the crawl options – see below).
List — A file containing all the URLs which are subject to crawl.
Under this input option crawler will crawl only those webpages/URLs which will be included in that file. (.txt format file with one URL per line).
Crawl Options
Crawl can be selected in three different ways.
       1.  Website — The option is the default crawl option. Under this option all the data from webpage will be crawled and will be set for the user in tabular form.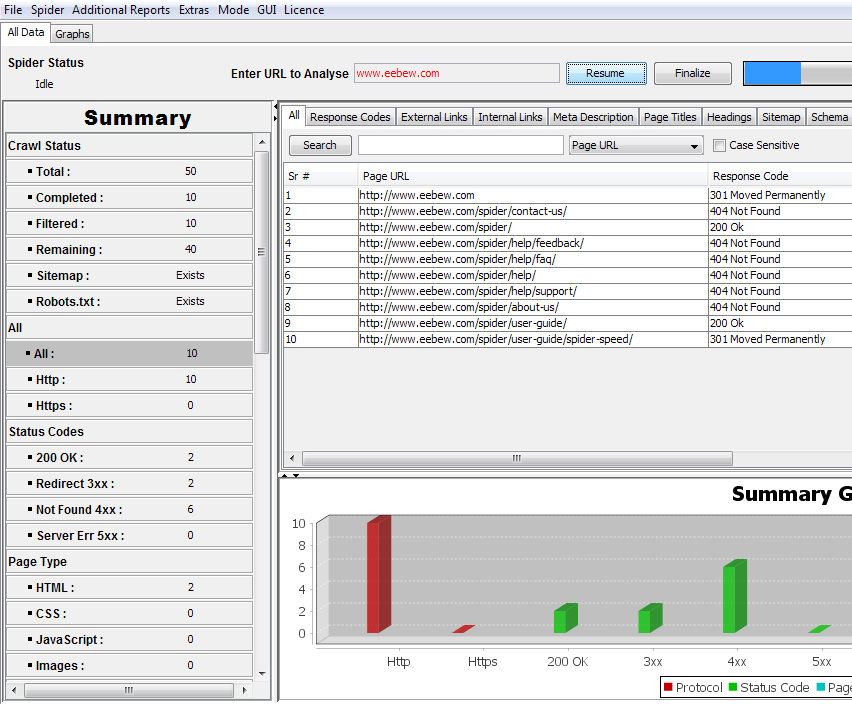 2.  Keyword Intelligence — This crawl option will crawl all the keywords from website. This mode takes keywords from titles, headings and anchor texts and do analysis on them either they are conflicted with any other webpage's keywords or are good to go. User can see the conflicts as well.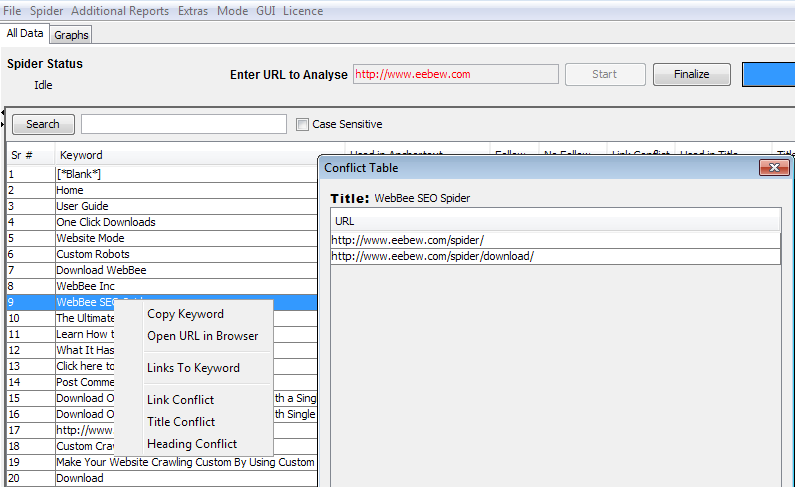 [the_ad id="6396″]
Like in above image the keyword "Webbee SEO Spider" has used in 2 titles of different pages which is a conflict. 1 keyword should be targeted at one page. Similarly other conflicts can be seen by user.User can also see the pages which are linking to other page with same keyword and can perform search on them.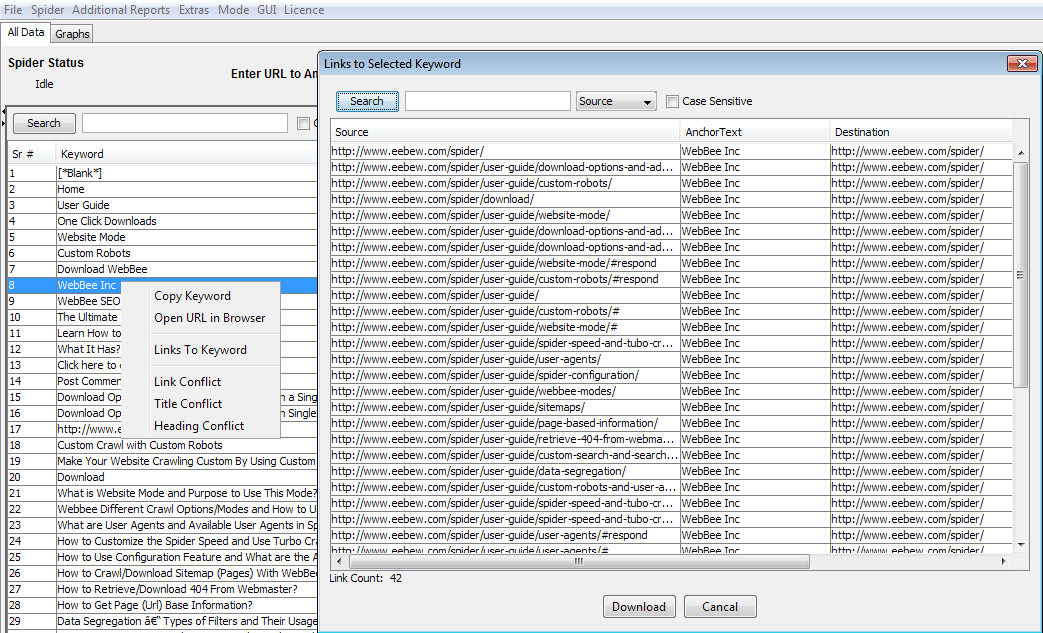 3.  Header Status Mode — This option is designed to give the user an edge to crawl only the status codes (and internal links if specified under list mode) for their input.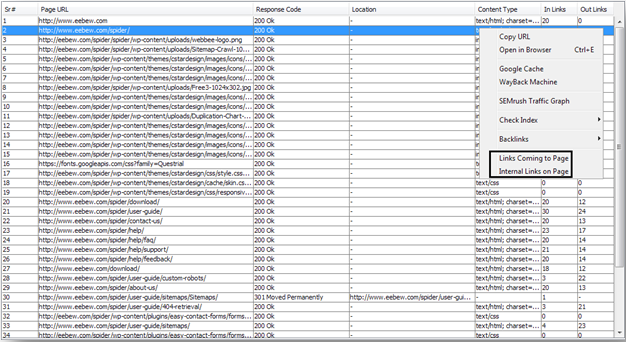 Crawl Summary
User can download crawl summary in basic and advance form. Crawl summary can be seen in left and right side of all modes.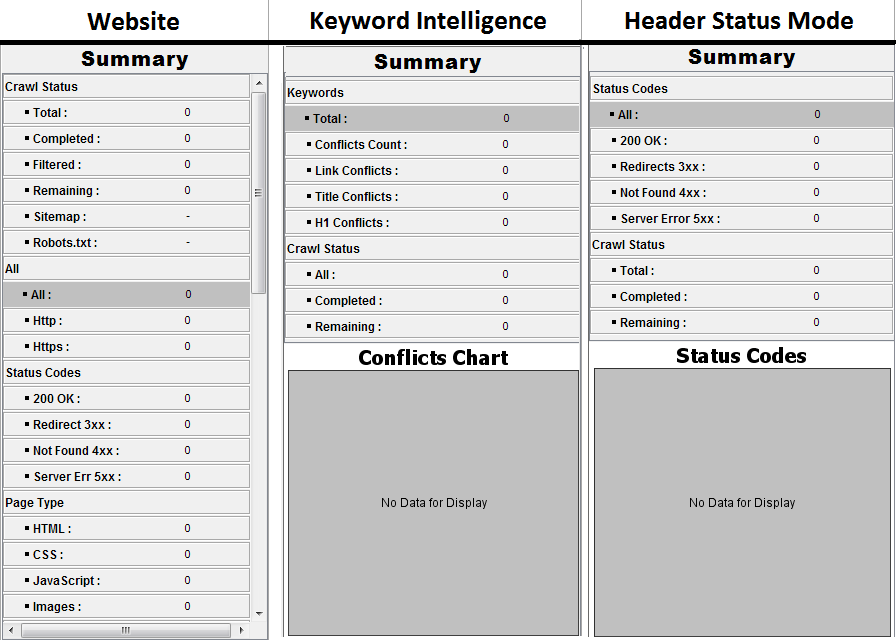 An option to download these summaries is available in "Additional Reports" with "Crawl Summary" name.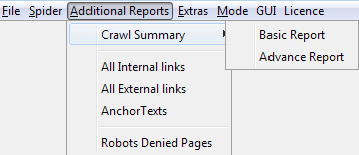 Basic Report: Just download the summary in .csv format.
[the_ad id="6394″]
Advance Report: Download the summary and all the data that can be seen in summary e.g. HTML: 200, 4xx Not Found: 20 etc. it stores the data in separate files and link them to main summary sheet. Upon clicking the option that sheet will be opened as separate .csv file.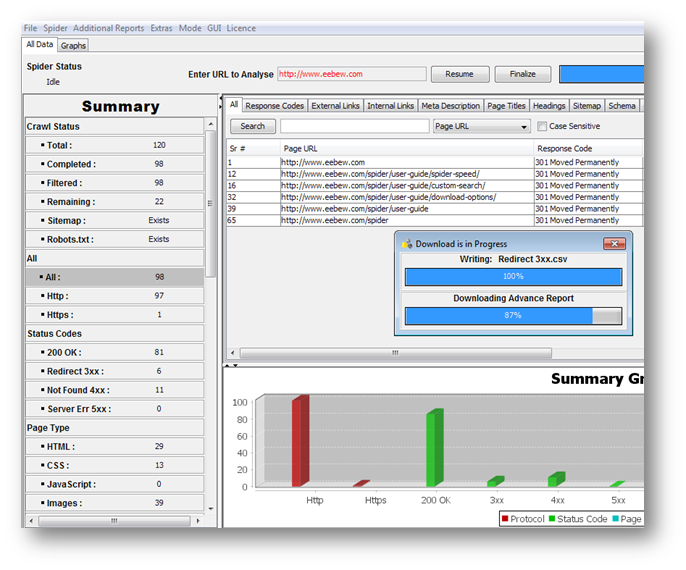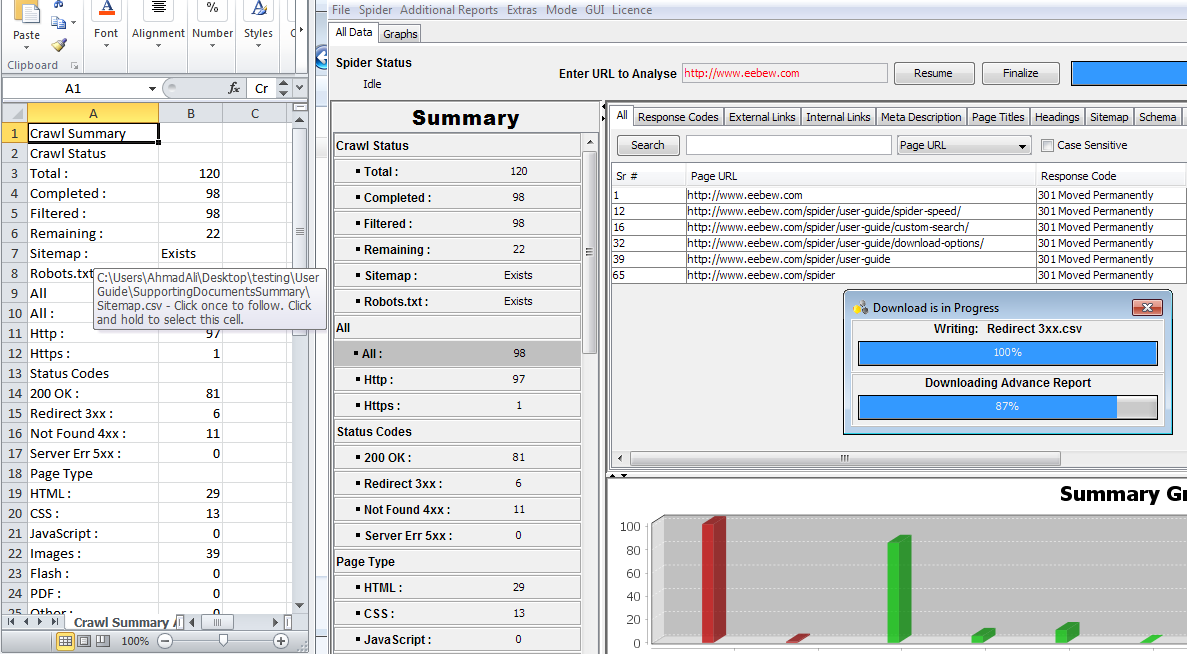 As seen in above image all the options are clickable in .csv file (crawl summary advance report). On click that files with its specified name data will be opened.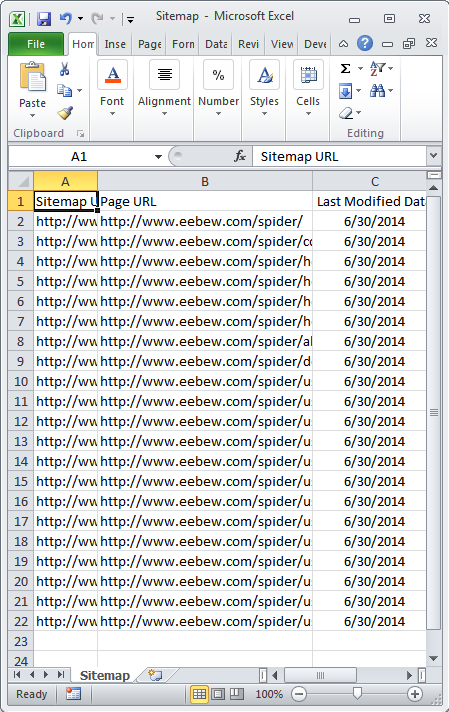 [the_ad id="6397″]
Similarly an option for advance report can be found in "Extras" menu that will download all the data from front table and will link all the concerned files (with data) with it.

Schema Information
If schema has implemented on any webpage, its tree can be seen by clicking the "Schema Tree" option in menu. Below is a snapshot.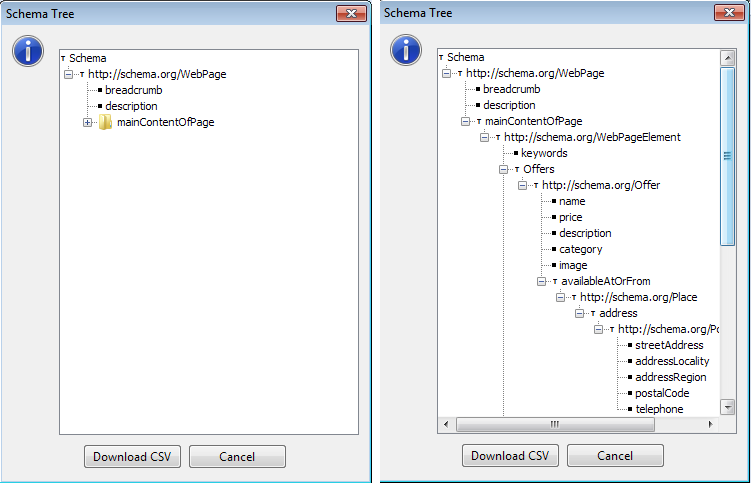 User Interface Change
User can also change the interface of Webbee. There are two design options.

Windows Mode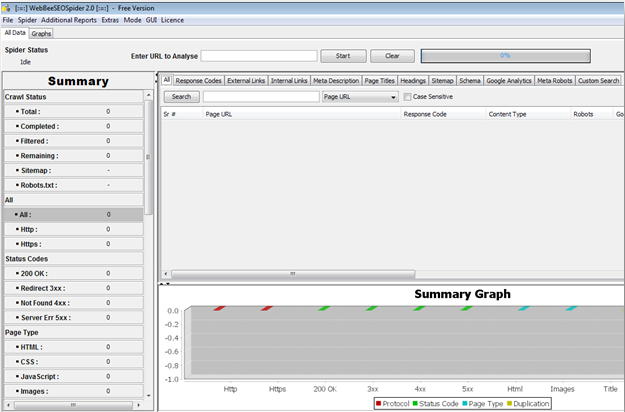 Java Mode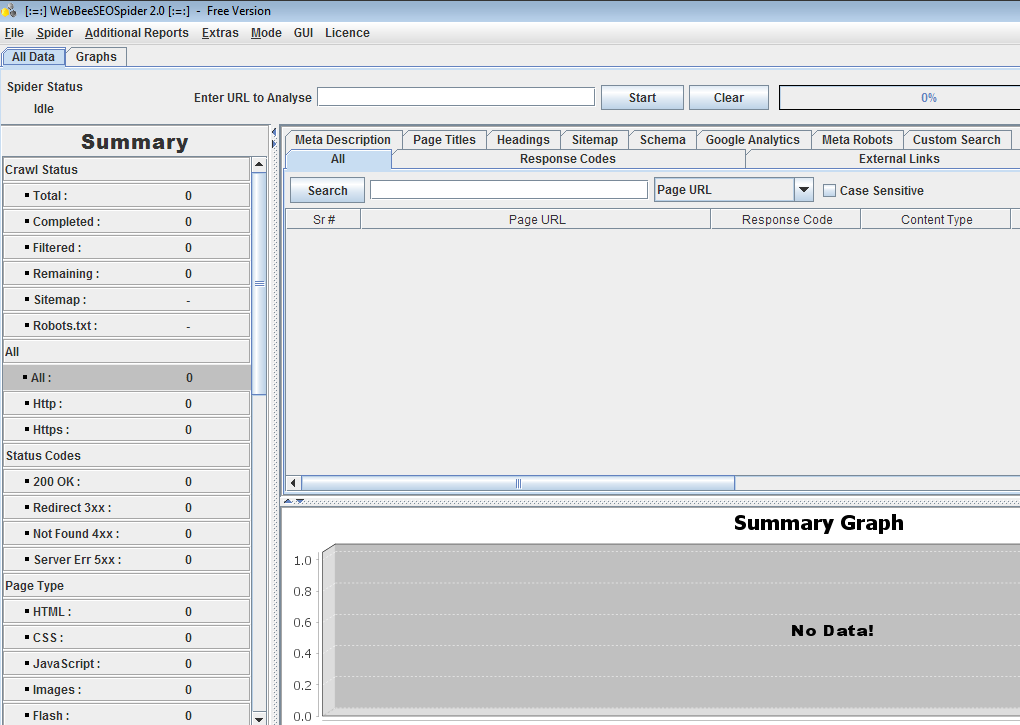 Graphical View of Crawl
User can also view the crawl in graphical mode for better understanding of all the data.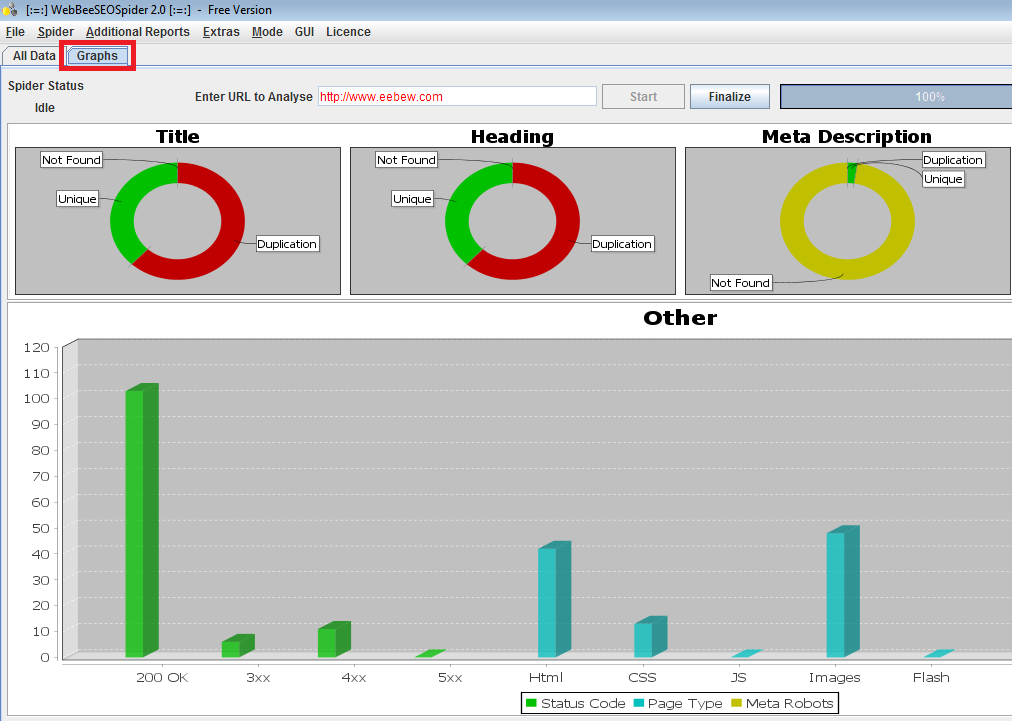 Graph's properties can be changed by the user and it can also be copied / saved in PNG form.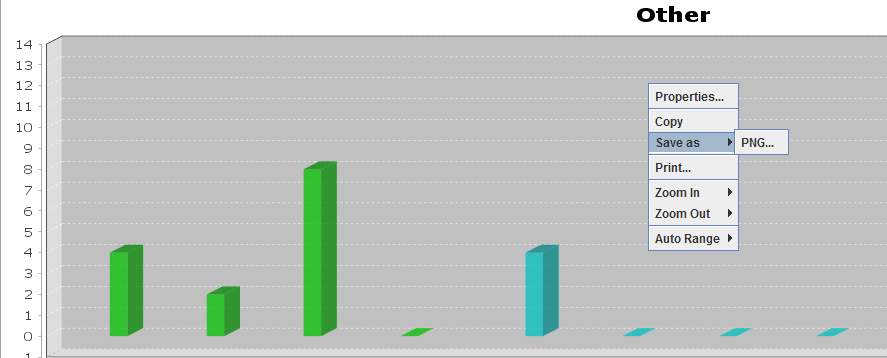 The option is available in all modes.
[the_ad id="6395″]
Knowledge Base
Knowledge base is a segment available in keyword intelligence mode at most right side of main panel. Primary purpose for providing that section is to give the user ease to search SEO data.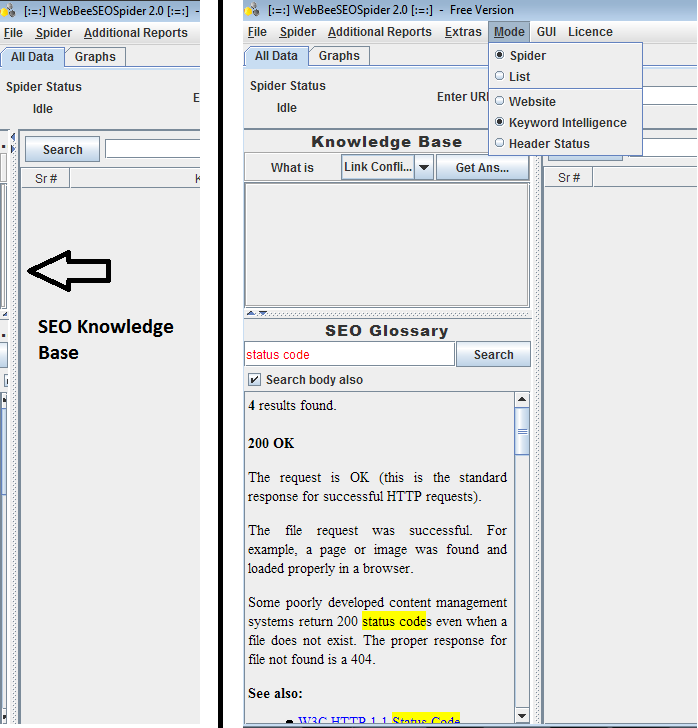 In-App Access to User Guide
User can search the user guide within the app for help.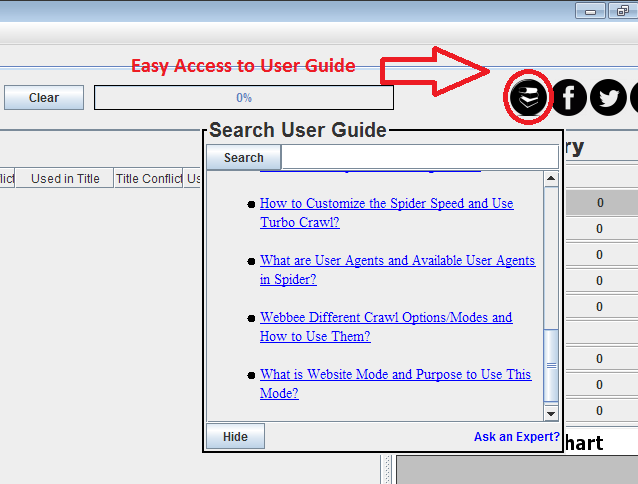 Live View of Robots Denied Pages
If some pages are denied in robots.txt, user can view them within the crawl. The option can be seen under website mode in right navigation.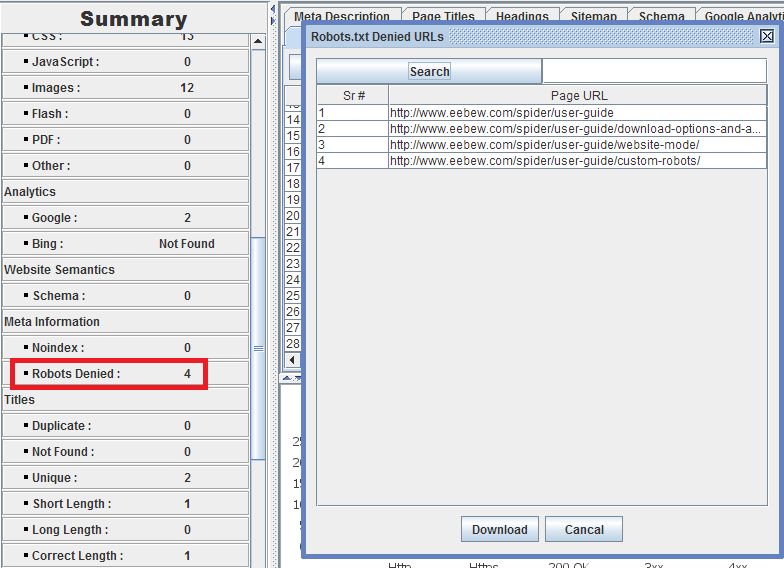 Similarly other section like Noindex, HTML, 3xx Redirects etc. can be clicked to view categorized data.

Spider Speed
There are options to set the spider speed in "spider" menu.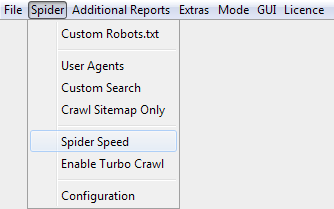 Below is the image that how this option looks like.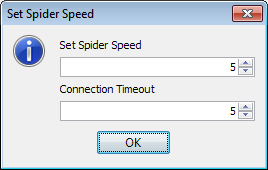 User can set the spider speed and the connection timeout in that panel. The option 'Connection Timeout' waits for mentioned seconds when connecting to a URL. The time can be set for this option from 1 – 15 seconds.
[the_ad id="6398″]
Turbo Crawl
There is an option as well for 'Turbo Crawl'. This option saves users' time and crawl the website at turbo speed without manual spider speed specification. It automatically sets the spider speed at turbo.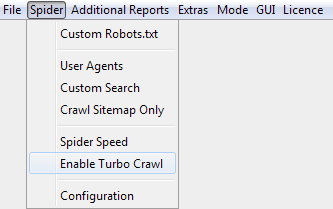 All the features can be seen in detail at User Guide.
---