When user searches something in search engines, they show two types of results i.e. organic and paid. See the image below to differentiate natural search vs paid search results.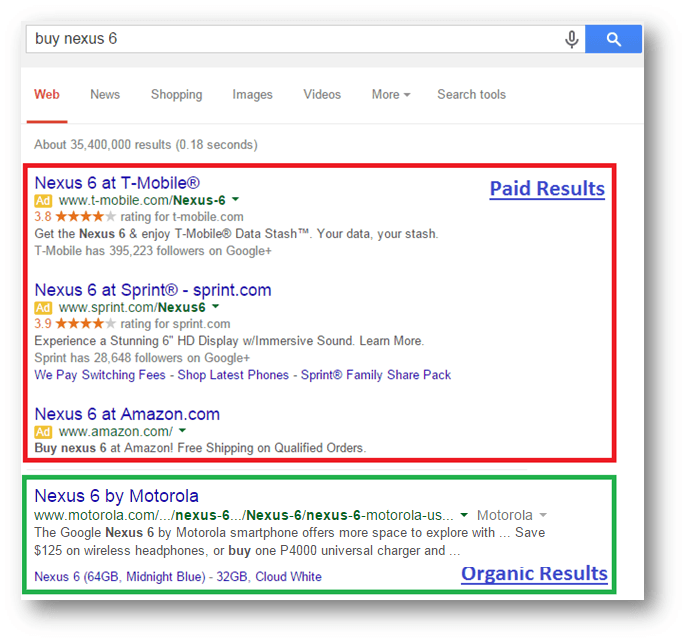 See the clear differentiation between ppc and seo results in the image. The red section is those website owners who cannot wait long for traffic, so, they buy it. Green section is that community, mostly small businesses, who build their trust in search engines and being referred by them to their users.
Benefits of Organic Results (SEO)
These results last long if are being compared with paid results.
Business exposure at no cost.
Require least budget for project management.
Traffic would be most targeted as organic results are content driven. Good the content you have, best the traffic you will have on your website.
No direct control over organic results.
Flaws of SEO (Organic Results)
Following the search engine guidelines is a MUST!
Ranking your website in organic results is an uphill struggle. More than 200

ranking factors

and their different combinations rank a website.
Requires content is huge quantity in form of webpages. Keywords targeting across the website should be perfect.
Recovery is almost impossible once your website is being penalized by any algorithmic change.
Benefits of Paid Results (PPC)
Ranking for paid results is easy and instant because you just need budget, plan and a PPC marketer. He will do the job for you.
Direct control over these results. Good the keywords selection you have, best the conversion rate you will have.
Drawbacks of PPC (Paid Results)
The biggest drawback of paid marketing is once you stop; your traffic will go down the same way. Simply; feed the search engine, it will feed your website with relevant traffic.
---
---
---