Our team here at Webbee Inc. has some incredibly exciting news to share with all of you! Clutch just issued a press release where they listed us as one of the country top SEO firms! All aspects of SEO are essential to a growing business, and it makes sense to utilize one of the world's top providers. That's why we're honored that Clutch named us one of their best SEO firms!
"We are really excited to have been continuously chosen from last 3-4 years as of the leading Digital Marketing and B2B Company in Asia by clutch!" – Asim Mughal, Co-Founder of Webbee Inc."
Clutch.co, and their sister site The Manifest, is located in the center of the District of Columbia, where their dedicated analysts independently verify each client review that they talk to. Then, their hard-working editorial team curates the content, ensuring that you have the best information when hiring B2B vendors!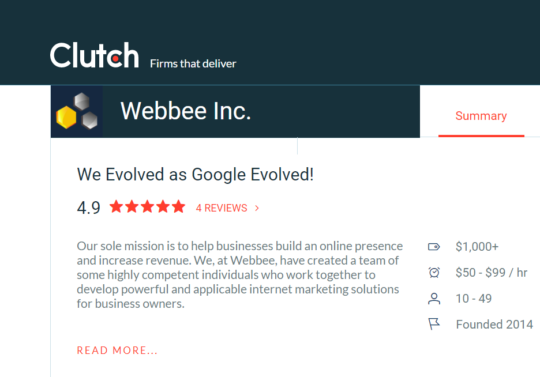 We're incredibly proud of our stellar rating on Clutch! With tons of reviews praising us for our advanced technology skills, we're honored to be listed by Clutch as a leading digital marketing agency and featured on The Manifest as a leader in the fast-moving field of digital marketing.
In a recent five-star review, the Project Coordinator of a Saas Product based company praised our SEO & Search Engine Marketing (PPC) work!
"The results are outstanding, and we appreciated their accessible communication style and relevant knowledge. It was impressive how they documented each action and task, making it easy to track their progress. They took time to understand the business and market before executing changes."
We want to give thanks to our satisfied customers, Clutch, and our team! Let us know how we can help you with digital marketing today!