Isn't it amazing how a seller and a buyer both connect and trade even without a meeting, seeing or knowing each other? That's one of the many examples of what e-commerce has brought about. E-commerce came as a direct result of the internet. It brings flexibility, convenience and removes limitations and boundaries across states, countries, continents and so on.
E-commerce in its most basic definition describes the buying and selling of goods and products over the internet. According to this article, it is the activities involved in electronically buying and selling of services and products on the internet. This involves the use of devices like mobile phones, tablets, laptops, and computers. It also involves making payments electronically as well as other e-commerce processes that may be necessary for a complete flow of transactions from inventory to sales and delivery to the end-user.
A Close Look at E-commerce
To get involved in e-commerce, businesses must be able to move their products and transactions from brick and mortar shops to owning and maintaining these stores as websites on the internet. What this then results in is a need for the marketing of this website so potential customers can locate it. Having a physical store is much different from having an online store. With a physical store, a business might not even need to market especially if they are already known or strategically located in a place where people go through daily. Not so with online stores. The internet is a vast beast with long tentacles and reaches and wide enough for businesses located anywhere in the world to be noticed. This brings a high level of competition and does not guarantee visibility.
To counteract these, businesses will need to market their websites and products. There are different marketing methods and strategies they can use. One of the most effective online marketing strategies is implementing SEO (search engine optimization) strategies on their website.
Search Engine Optimization
Search engine optimization came about over 20 years to solve the problems associated with indexing and cataloging information online. It made finding information on the internet possible due to its vast nature through the use of search engines. Search platforms such as Excite were one of the pioneers before competitors like Yahoo and Google came into the fray. This significantly changed, improved and simplified how data and information are indexed and delivered online. You can read about the interesting history of SEO here: https://www.searchenginejournal.com/seo-101/seo-history/#close.
Search engines began to work on how to connect internet users to contents that are more relevant and valuable to them. There were rules, regulations, and indices put in place to make all of these accessible.
SEO involves strategies and practices that help make websites rank high on search engines. Optimization is achieved with various tools, methods, and strategies that are implemented on and off the website so that when a user carries out a search for the kind of content on the website, the search engine brings up the website among its top results. SEO connects people to targeted content and information in a personalized, accessible and engaging way.
How SEO Relates to Ecommerce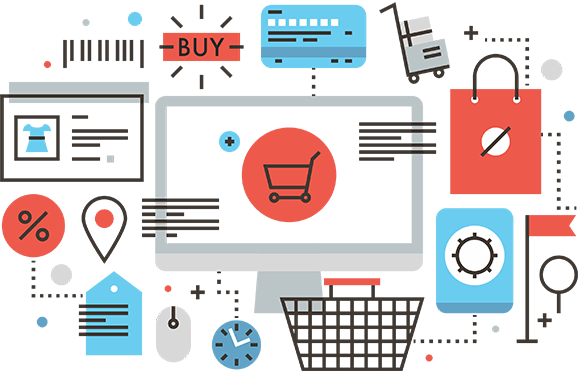 There are a lot of e-commerce sites selling the same type of products. Except your product is very unique and no one else sells such, you cannot escape the competition. Even at this, you will still need your website to be optimized so as to make it visible to those who need your products.
For an e-commerce website seeking to go above the competition and make their website easily visible and accessible, implementing SEO is the way to go. Search engine optimization properly implemented will help you rank your site high for relevant keywords. The higher a site is ranked, the higher the traffic it receives and of course the more potential clients will come to it which should then result in higher sales.
Getting Started
Implementing SEO requires a lot of work, knowledge, and dedication. You may be tempted to handle it yourself but that could well backfire. If it is not properly implemented, you will be wasting time and resources and will need to start all over again. To prevent this, employing the services of an agency to handle these needs is recommended. SEO agencies will guide and advise you on strategies for optimizing your business website.
When we talk about agencies, it does not necessarily have to be a large company. It could also be an individual who is very experienced in this field. For example, Matt is an alternative to an ecommerce SEO agency. He has the knowledge and experience and so can, as an individual help your e-commerce rank high for relevant keywords.
For a business to be patronized, they have to put themselves out there. With the way e-commerce has evolved and is still growing, implementing search engine optimization has more of a must for any business that wants to succeed in this industry.